This article, Kyumi Uchiha, is strictly property of Kululu12.
Kyumi Uchiha
Aliases
Kyu, Mimi
Journey Information
Experience
3,050
Ryō
1,503,000
Biographical Information
Birthdate
Setembro 29
Gender
Feminino
Age
10
Height
4'3
Weight
70lbs
Blood Type
A
Classification
Genin
Affiliation
Konohagakure
Team
 ?????
Clan
Clã Uchiha
Chakra Natures
Water Release
Kekki Genkai
Kontongan
Rank
Ninja Rank
Genin
Academy Grad. Age
10
Tools
~ Kunai
~Espada
~Shurikens
~Fūma Shuriken
Jutsu
Mystical Palm Technique
Twin Rasengan Rotation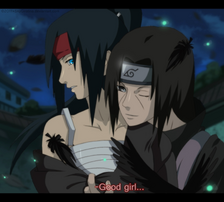 ☀Aparência física
Edit
Kyumi é uma jovem bastante alta. Ela geralmente tem black-ish olho / clear-ish, que às vezes são azuis quando ela está usando sua Dojutsu. Ela geralmente tem uma camisa apertada pele negra, com um manto ninja azul sobre ele. Ela tem a pele preta shorts apertados com sua bolsa Kunai na coxa direita com seu Bandana em sua coxa esquerda. aquele tipo de menina gata do caralho e.e
☀Personalidade
Edit
Kyumi é principalmente uma menina alegre otimista normalmente tímida. Ela está sempre disposta a ajudar quando necessário e ela se preocupa muito por seus companheiros de equipe. Ela é sempre aquele curioso, perguntando toneladas de perguntas, quando um tópico interessante vem à tona. Ela também gosta de aprender coisas novas, e, em seguida, testá-los para si mesma mais tarde.
inteligência Superior: a inteligência do Kyumi é grande, especialmente com o cálculo movimentos de um oponente. Ela só precisa de segundos para prever onde o adversário com greve a partir.
Boa Força: Kyumi é bastante forte. Seu relâmpago Chakra acrescentando a essa força.
Grande Ninjutsu Mèdico: Kyumi é muito hábil em ninjutsu médico. Que ela é capaz de usar para ajudar a cuidar de seus companheiros de equipe e familiares.
| Missão | |
| --- | --- |
| Idade | 10 |
| Kunais | 39 |
| Espadas | 3 |
| Shiurikens | 20 |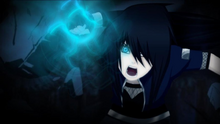 Ad blocker interference detected!
Wikia is a free-to-use site that makes money from advertising. We have a modified experience for viewers using ad blockers

Wikia is not accessible if you've made further modifications. Remove the custom ad blocker rule(s) and the page will load as expected.